In-Ground Basketball Systems: HYDROSHOT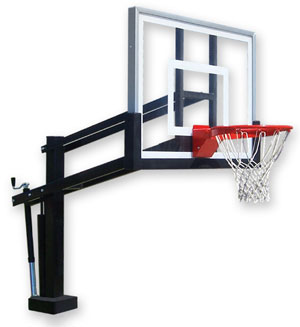 The HydroShot brings premium grade basketball performance to your poolside!
For those who love to hoop it up while they splash around, First Team introduces the HydroShot STAINLESS STEEL adjustable poolside basketball system. The HydroShot's 4" square post and dual strut extension arm make for a "tough as nails" poolside unit that will NEVER RUST!!! No more flimsy, plastic models. The HydroShot will far exceed your expectations for a poolside basketball unit.
The HydroShot comes complete with your choice of three clear, professional looking acrylic backboards and breakaway rim. To adjust the unit, simply turn the crank handle positioned for easy access from the pool deck. The unit is infinitely adjustable from regulation 10' down to 6'6". An easy to read rim height indicator is provided as well.
Designed for commercial water parks, the HydroShot also makes a first class residential poolside hoop. First Team's unique anchor bolt installation design allows you to easily relocate the unit if ever needed. An anchor bolt cover is provided with each unit. For additional safety, backboard padding is available for all HydroShot models.
HYDROSHOT II
$5940
4" Hydroshot Pole System
36"x48" Acrylic Backboard (1/2" thick)
Heavy Duty Flex Goal
Contact us at 602-294-6677 for discount pricing!
How to Order or Receive More Information
To order one of our products, or to receive more information about it, feel free to contact us at 602-AZ-HOOPS (602-294-6677) or via the web by clicking here.